Acne Treatments
Acne is a skin condition that affects an estimated 40 to 50 million people in the U.S. Although it is most common among adolescents, it can affect patients of all ages. Acne is a skin condition that occurs when hair follicles become clogged with oil, dead skin cells, and bacteria. It can cause whiteheads, blackheads, pimples, and redness of the skin.
Depending on the severity, acne can negatively impact the appearance of patients' skin and can cause frustration and emotional distress for acne sufferers. Acne can also cause scarring. The earlier acne is addressed, the less likely it is to cause long-term effects from acne, such as raised scars and pits on the skin.
Fortunately, there are many cutting-edge treatment options that can be used to address acne. Dermatologist Dr. Zeena is an expert in the most current and effective acne treatments. She can work with you to find an effective treatment plan based on your specific skin needs and the severity of your acne. Treatment options include: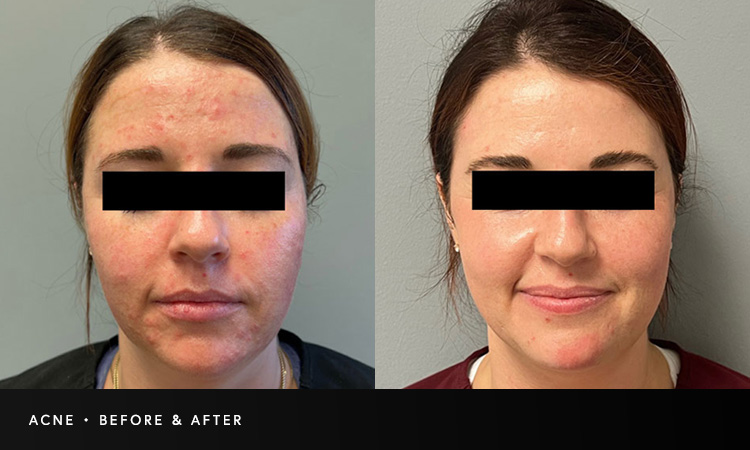 Laser genesis is a non-invasive procedure that uses a laser to gently heat the deeper layers of skin tissue. This heat breaks up the dirt, oil, and bacteria that causes breakouts and helps the skin produce collagen and elastin, which gives the skin a smoother appearance. It also can help fade scarring and redness associated with acne.
Laser genesis is as comfortable as a traditional facial, and only takes about 30 minutes. There is no downtime, though you may be asked to wear sunscreen and avoid excessive sun exposure following the treatment. Laser genesis treatments are typically scheduled approximately two weeks apart.
Learn more about Laser Genesis.
Excel V Laser
The Excel V laser is a state-of-the-art treatment that uses two precise lasers to target vascular concerns and pigmented skin, including acne scars. The device can be customized by your dermatologist to address your specific needs.
The treatment can cause a stinging sensation as the pulses of energy are delivered, but the Excel V laser uses a proprietary cooling mechanism to help with any discomfort. Pain following the treatment is minimal, if not non-existent.
The VI Peel is a medical-grade peel designed to improve a number of skin conditions, including acne, scarring and uneven skin tone. The peel helps improve the appearance of the skin on the face and chest. The VI Peel increases collagen production in the skin. The VI Peel Purify, in particular, can be used to target acne, as it also helps reduce and eliminate bacteria. Patients often notice a reduction in the size of pores and overall clearer skin.
Pain associated with the VI Peel is minimal and the downtime is short. Results are generally seen in about a week, and it can be used on all skin types.
Learn more about Chemical Peels.
HydraFacial is a non-invasive skincare procedure that can help combat acne. It uses a patented Vortex technology and unique tip to rid the skin of acne-causing and pore-clogging agents. It can also help treat hyperpigmentation and scarring.
The HydraFacial uses a water-based solution to clean and exfoliate the outermost layer of the skin, removing dirt, oils, and dead cells that can cause acne. It then creates a gentle suction over the skin to deeply clean the pores. The skin is then moisturized hydrating serums specifically tailored to your needs. The procedure takes about 30 minutes and requires no downtime.
Topical Medications
Over-the-counter and prescription topical medications can be used effectively for acne. Prescription medications include:
Retinoids – Medications containing retinoic acids or tretinoin can be useful for moderate acne; they can prevent plugging of the hair follicles. Examples include tretinoin (Avita, Retin-A, others), adapalene (Differin) and tazarotene (Tazorac, Avage, others).
Antibiotics – These work to kill skin bacteria and reduce redness and inflammation. Sometimes patients may use a retinoid together with antibiotics, with the antibiotic applied in the morning and the retinoid in the evening. Antibiotics are often combined with benzoyl peroxide to reduce the likelihood of developing antibiotic resistance. Examples include clindamycin with benzoyl peroxide (Benzaclin, Duac, others) and erythromycin with benzoyl peroxide (Benzamycin).
Azelaic Acid – Azelaic acid is a naturally occurring acid that has antibacterial properties. It can also be used to manage discoloration that occurs with some types of acne.
Salicylic Acid – Salicylic acid may help prevent plugged hair follicles and is available as both wash-off and leave-on products. Studies showing its effectiveness are limited.
Dapsone– Dapsone (Aczone) 5% gel twice daily is recommended for inflammatory acne, especially in women with acne.
Contact Us
Dr. Zeena has extensive experience helping patients overcome acne. Contact our office today to set up a consultation to develop a treatment plan that is effective for your specific skin and symptoms.
At a Glance
Dr. Zeena Al-Dujaili
Double board certified in dermatology and Mohs Surgery
Fellowship trained in cosmetic dermatology
Authored several chapters in clinical textbooks and peer-reviewed publications