Dysport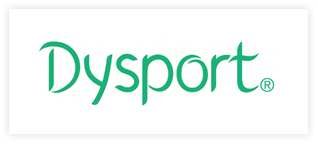 Dysport, Botox and Jeuveau are all part of a family of drugs called neuromodulators, Botulinum Toxin Type A. They work by temporarily blocking the contraction of muscles that cause dynamic wrinkles.
What are dynamic wrinkles?
Dynamic wrinkles are the result of repetitive facial expressions including frowning, squinting, wincing, and smiling. Horizontal frown lines and glabellar lines called "11s" between the brows, crow's feet, and smile lines can all be treated to improve their appearance. In addition to relaxing existing dynamic wrinkles, treatments will prevent worsening of existing wrinkles and the development of new dynamic wrinkles.
Dysport efficacy
Dysport is proven to help smooth the appearance of moderate to severe lines between the eyebrows without affecting movement in the rest of the face. It delivers natural looking results. You will never look frozen and will be able to move your facial expressions normally.
How long does the procedure take?
The areas to be treated are cleaned and a topical anesthetic may be applied. The actual injection takes just minutes.
How long will it take to see results?
Patients will see improvements within 2-3 days after treatment with Dysport.
How long do results last?
Dysport results last 3-6months
Safety, side effects and downtime
There is no downtime. Dysport has a high safety profile. Side effects are minimal and mainly involve discomfort, redness and swelling at the site of the injection that resolves within a few hours.
Are there other benefits of Dysport?
There are some benefits specific to Dysport for anti-aging treatments.
Dysport is a smaller molecule and spreads more easily which may offer an advantage in some areas of the face such as the crow's feet.
Patients who have stopped responding to Botox can achieve the desired benefits with Dysport.
The most important consideration is the skill and expertise of the injector. Dr. Zeena is an expert injector with the knowledge, skills and experience to deliver consistent aesthetic results.
Contact her at New Orleans Aesthetics to schedule a consultation, find out if you are a good candidate, and learn about all the options that can help to enhance your appearance and improve your confidence.
At a Glance
Dr. Zeena Al-Dujaili
Double board certified in dermatology and Mohs Surgery
Fellowship trained in cosmetic dermatology
Authored several chapters in clinical textbooks and peer-reviewed publications