Microneedling RF / Secret
What is Radiofrequency (RF) Microneedling?
RF microneedling combines the benefits of microneedling with radiofrequency energy for complete skin rejuvenation. Microneedling creates thousands of microscopic wounds deep in the dermis (the second layer of skin) that stimulates inflammation and initiates collagen production. The addition of radiofrequency energy delivered deep in the dermis adds heat that enhances collagen growth and tissue tightening for lifting and firming. Results are long-lasting.
About skin laxity
As our skin ages our collagen production naturally slows down. A major cause of wrinkles and skin laxity is the quantity and quality of collagen. Regardless of age and skin type, procedures to improve skin laxity such as a face lift or thread lift are effective, but do not improve texture or achieve skin rejuvenation. In addition, a face lift causes scars and threading can become visible.
Microneedling is collagen induction therapy that stimulates the release of growth factors and collagen production which promotes new skin cells to surface which improves tone and texture.  Radiofrequency microneedling stimulates collagen and elastin safely and effectively promoting long-lasting skin tightening.
RF Microneedling can treat:
sagging skin
wrinkles
lost volume
skin tone and texture changes
hyperpigmentation
melasma
acne scarring
surgical scars
traumatic scars
large pores
oiliness
moderate sun damage
stretch marks
vertical lip and chest lines
and crepey skin on the face, neck and décolletage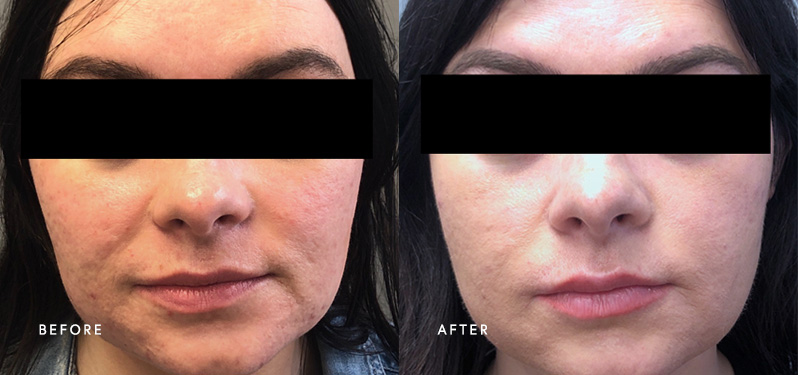 Who is a good candidate?
Microneedling can safely treat all skin types to address a variety of concerns.
The procedure using SecretRF
Demand for non-surgical aesthetic procedures with little to no downtime is on the rise. More than 70% of patients are bothered by signs of aging such as fine lines and wrinkles as well as skin texture and discoloration.
Secret RF is a novel fractional radio frequency (RF) microneedling system for tissue coagulation and hemostasis designed to stimulate and remodel collagen and address the common signs of aging. It is ideally suited for use on patients who wish to revitalize and refresh the appearance of their skin on all skin types. By adjusting the micro-needles, Secret RF can deliver energy at various depths, so that treatments can be tailored to address each patient's individual concerns such as fine lines, wrinkles, acne scars, photoaging and striae at the depth required.
Topical numbing cream will be applied to the areas to be treated. Patients report only mild discomfort during the procedure.  You can expect mild skin redness for 24-48 hours after treatment and tiny dark spots from the needle punctures may last another day.
Patients report seeing positive changes as soon as 1-2 weeks after the first treatment.  However, it takes time to grown new collagen, and may take up to three months for new collagen to improve scars. Skin texture will continue to improve over the next 12 months.
Your consultation
During your consultation, Dr. Zeena will listen to your concerns, examine your skin and review your medical history. She will answer your questions and provide recommendations about the number of treatments you will need to achieve optimal results. Typically, 3-4 treatments provide the desired outcome.
Additionally, skincare cosmeceuticals can be added to your treatment to address skin aging. Pairing these products with RF microneedling is beneficial to enhance results. Combining topical therapy for hyperpigmentation with RF microneedling enhances results for melasma and post-inflammatory hyperpigmentation.
RF microneedling is a minimally invasive procedure that is safe and effective treatment for active acne and acne scarring with low down time.
Contact Dr. Zeena in New Orleans, Louisiana for a professional, and remarkably simple and effective way to treat acne scarring, and improve the appearance of fine lines, wrinkles, and moderate sun damaged.  Full facial rejuvenation is a call away.
At a Glance
Dr. Zeena Al-Dujaili
Double board certified in dermatology and Mohs Surgery
Fellowship trained in cosmetic dermatology
Authored several chapters in clinical textbooks and peer-reviewed publications