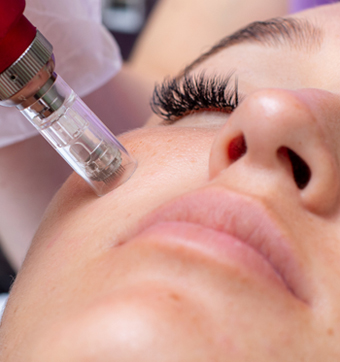 Why is Microneedling with RF better than Traditional Microneedling?
Our skin ages naturally over time and the aging process can be further sped up by extensive exposure to the sun. The effect is a deterioration in skin's function and structure. The skin makes less new collagen and elastin, which leads to skin laxity, wrinkles and fine lines, changes in pigment, reduced radiance, and a loss of moisture.
What is Microneedling?
Microneedling is a minimally invasive cosmetic procedure that is designed to help rejuvenate the skin, reducing the appearance of acne scars, stretch marks, dark spots, wrinkles, and fine lines. Microneedling makes microwounds in the skin, which as the skin heals, boosts collagen and elastin.
During a microneedling procedure, your dermatologist will make small pricks in the skin with a pen-like medical device. The needle is so fine and the microwounds are so small that you will likely not notice them following the procedure. However, when the skin responds to the pin-pricks, it develops new collagen-rich tissue which can promote smoother, firmer and overall more young-looking skin. Microneedling is less invasive than Botox or laser skin resurfacing.
What is Radiofrequency (RF) Microneedling?
Radiofrequency microneedling features all the benefits of traditional microneedling, but it adds radiofrequency waves to the procedure for even more enhanced effects. Like microneedling, it can be used to address concerns including fine lines, wrinkles, stretch marks, acne scars, hyperpigmentation, and loose or sagging skin. The difference is that the heat produced by the radiofrequency waves stimulates more collagen and elastin than traditional microneedling alone.
Why is Radiofrequency Microneedling So Much Better?
In addition to adding heat to stimulate more collagen and elastin production, radiofrequency microneedling can reach deeper into the skin, without damaging the top layers, as RF energy can be delivered past the tip of the needles into the skin's deeper layers. This further stimulates collagen production deeper in skin, making the procedure better at tightening the skin and restoring a youthful appearance.
Microneedling with radiofrequency can also be customized so that the depth of the procedure is tailored specifically to the patient's needs, which may include reducing wrinkles, minimizing acne scars, addressing sun damage, and more.
Because microneedling with radio frequency is more effective in delivering results, it may decrease the number of needed treatments in comparison with traditional microneedling.
RF Microneedling at New Orleans Aesthetics
Cosmetic dermatologist Dr. Zeena uses an innovative device developed by Cutera called the Secret RF. The Secret RF device can be tailored to address each patient's individual concerns from fine lines, wrinkles, acne scars, and photoaging.
Microneedling with Secret RF triggers the natural wound healing cascade which induces the release of growth factors and stimulates collagen and elastin production eliminating surface scarring and smoothing and softening lines and wrinkles. It also stimulates the growth of new skin cells to replace damaged, pigmented spots for an even toned complexion.
When RF microneedling is paired with topical cosmeceutical products, they penetrate deep into the skin via the microchannels to enhance their benefits and results. Dr. Zeena and her team can work with you to find the most optimal topical products to ensure the most stunning results. Contact us today for a consultation.